mocha webinar is back with their new E Learning video tutorial from Imagineer Systems. Ben Brownlee from Curious Turtle will be conducting online webinar training event combining mocha and Adobe After Effects.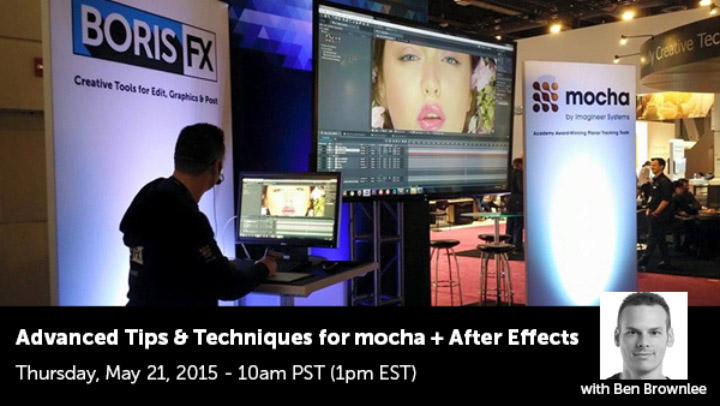 Ben Brownlee, a renowned VFX artist and Curious Turtle Trainer, is conducing this month's free training webinar. Brownlee will be using real world practical shots solving techniques with mocha and Adobe After Effects. These special techniques will also cover Boris FX's BCC (Boris Continuum Complete) to sum up the shot.
The mocha webinar details are as follows : 
Topic : Advanced Tips & Techniques for mocha + After Effects
Date : 21st May, Thursday, 2015
Time :  10am PST (1pm EST)
Venue : Online webinar
Ben will animate the static elements of the scene with change of day time. To achieve it in faster manner, he will use stabilized pre-comps and 3D camera tracking. He will also focus on mocha's rotoscoping, Lens and Stabilization modules and shape-generating tools.
The list of modules which will be covered in the live training webinar are given below :
Choosing the perfect areas to track for inserts and 3D Camera Tracking
Tracking techniques for fast rotoscoping
Creation of 3D camera from mocha data
Do's and Dont's of tracking face elements
Finishing with BBC suite including BCC Lens Flare, BCC Warp, and BCC Film Process
The live training event is hosted by Imagineer Systems and co-sponsored by Boris FX.
By this time also, the online webinar comes with door prizes :
Full license of mocha Pro 4 (worth $1,495 USD) for one lucky attendee
Full license of Boris Continuum Complete 9 (worth $995 USD) plug-ins for Adobe for one lucky attendee
__________________________________________________________________
In case, if you had missed this webinar tutorial, don't worry. Mocha had uploaded the entire video recording of training session.